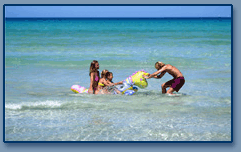 The 18km long beach on the eastern coastline of Falster is one of the finest beaches in Denmark and is particularly child-friendly.
Because of the low concentration of sea salt in the waters of the Baltic Sea it is not necessary to take a shower after swimming there. Besides your eyes don't itch after swimming.
There is enough space for everyone on the 20-50 m wide beach, even on the hottest summer day!
If you prefer to swim without a swimsuit, there is a nudist beach near Bøtø forest.
There are many opportunities to see other beaches in southern Falster. Their sand is not as fine, but they are still worthy of visiting for a picnic.
In colder weather there are other swimming options, for instance the
Falster Swim Centre
in Nykobing Falster and
Lalandia
in Rødby.